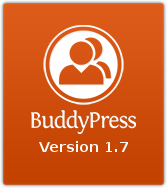 BuddyPress 1.7 is at beta 2 RC1 stage and it looks good. The main changes are behind the scenes and work to enhance speed, performance, security and theme & bbPress integration.
The biggest change is that BuddyPress has out-of-the-box theme integration so there's no requirement to install or buy a BP specific theme. Guess this means BuddyPress theme vendors will need to work a little bit harder for their money given all stylish themes will work with BP 1.7 without any template editing.
BuddyPress 1.7 is backwards compatible with existing themes so currently customized themes will work in their customized form. I have tested this with a few sites without any issues showing; and BP page templates can still be customized as explained here.
Still no live notifications and no activity stream realtime updates. This is a bit of a surprise. People expect a social network to operate in realtime so the lack of realtime notifications and live stream updates is a major oversight. There is a free plugin that forces realtime activity stream updating onto BuddyPress. See the list of BuddyPress must-have plugins for the download link.
Group Forums are no more! Not without a separate installation of bbPress, anyway. There is a tab under Settings > BuddyPress > Retired where Group Forums can be reactivated. bbPress has its own option for integrating bbPress with BuddyPress 1.7 under Settings > Forums > BuddyPress (it's right at the bottom of the page).
A bugging BP feature is that comments are nested. This is still the case with 1.7. It promotes conversations within conversations and segregation of users within a conversation. I hate nested comments within social networks. I prefer the Facebook method where an update is made and people can reply to the update but not to each others' replies in the update thread. Nested commenting can be fixed with CSS.
All-in-all, BP 1.7 looks pretty much the same as BP 1.6. It is faster. It integrates themes without messy theme edits. It is easier to decide whether to activate site wide forums or group wide forums because the option no longer exists. It lacks realtime updates, still lacks realtime notifications and lacks custom menu integration.
I like BuddyPress. It is well supported and works well but lacks a few essential features out-of-the-box. Fingers crossed, those features will be added before BuddyPress 1.8.