I've created a free tool which helps webmasters publicise and networking their sites. It's nothing spectacular, just a simple iFame based page with a menu at its top, links listed on its left and an iFrame on its right. Simple as it, it cuts in half the time spent submitting to directories, publishing press releases, finding directories and pinging search engines.
Here's how it works:
visit the tool here,
choose a category from the top,
click a link in the left-hand panel,
the webpage associated with your chosen link opens in the right-hand iFrame.
It helps with submissions to regular directories,  RSS directories, podcast directories, press release sites and ping submission sites. It currently contains over a thousand categorized links and a search tool to facilitate finding directories related to specific key words and phrases.
No messing about with multiple tabs and windows: one window, tidy categories, loads of links, loads of potential backlinks.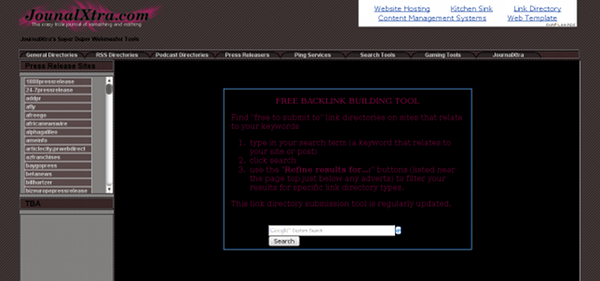 This tool will be updated regularly.