Two things conspired together to great effect today – one, I have a spare domain name to mess around with and, two, WordPress 3.0 is due for release within the next few weeks and I read it has multi site functionality. so, as WordPress 3.0 RC 1 is already available to download ,I chose to install it, try it out and document my thoughts for all to read.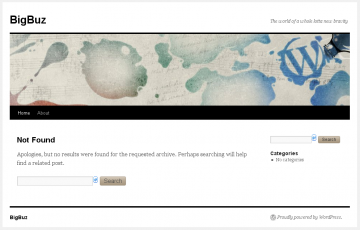 WordPress 3.0 – A First Look Review
Installing WordPress 3.0 is as easy as installing WordPress 2.x – just upload it, unpack it and browse it.
My first opinion of WordPress 3.0 was Wow! The front end looks cleaner and crisper, it loads quicker, the admin panel's sleeker, what's it got under its bonnet?
After a few clicks in the admin panel I noticed it was little different to WordPress 2.9. The options are roughly the same and are mostly in their old locations and the post creation page still uses the restricted version of the TinyMCE visual editor.
The main change I noticed in the admin panel is the configurable theme background and header image. After a little bit of research I learned that this is now a core part of WordPress – theme designers can let the WordPress API handle the integration of a blogger's chosen images into his (or her) theme.
The biggest and most useful change is the integration of WordPress MU with ordinary WordPress to provide every blogger with the ability to create his own interconnected network of blogs which can be managed from one admin panel. It also makes it incredibly easy for businesses, families and friends to create their own version of Blogspot, Blogger and WordPress.com.
The main reason I downloaded WordPress 3.0 was to test its multi site abilities on a domain I bought for its sub-domain potential. So, I was highly disappointed not to find an easy way to switch on the multi site abilities of WordPress 3.0. In fact, non of the admin panel's settings hinted at its multi site potential. A minute of googling soon put me on the winning track. Thanks to WPEngineer, I learned I had to edit my wp-config.php file to activate WordPress Multi Site. Quite why the WordPress developers made it a hidden feature is entirely unknown to me – a little activation button would help immensely or, at least, they should provide activation details during installation and in the Dashboard.
Overall, I am very impressed with WordPress 3.0 RC 1 and I really do look forward to using the final release. There are a lot of changes planned for WordPress 3.0, not least better multi site support especially to aid the administration of a blog network over multiple domains (and not just sub-domains) without the need for additional plugins. The future of WordPress and blogging is looking very bright and I hope to be around to enjoy it.
Most of the differences between WordPress 3.0 and WordPress 2.x plus WordPress MU will only be seen by developers of themes and plugins so for the sake of brevity I will just list the changes I believe to be important to regular bloggers.
What's New
WordPress MU and regular WordPress have been merged into WordPress 3.0
WordPress 3.0 has a new default theme
There is a custom menu option that is available to all themes
Custom header and background image integration for themes
The admin panel has had a bit of a makeover – it looks nicer
The admin user name and password can be set during installation
Bulk theme updating
The admin upgrade menu has moved from Tools>Upgrade to Dashboard>Updates
What's Not
Quite a lot is apparently the same as WordPress 2.9
The default TinyMCE visual editor still lacks much of TinyMCE's full functionality so requires a plugin to de-restrict it
What's Gone
The default Kubrick and Classic themes of the Old World WordPress
No more default admin username
Goodbye random admin password creation during installation
Vamos Turbo menu item (was at the top right of the admin page)
What's Hot
As easy to install as any previous version of WordPress
WordPress MU and WordPress 2.x have been merged into WordPress 3.0
WordPress Multi Site (MS) is the replacement for WordPress MU
WordPress MS is a fully functional blog network creator
WordPress MS will not overwrite or overrule an existent sub-domain
Super Admin menu for Multi Site installations
Improved post revision comparison
For those who want to use a single domain to launch a thousand sites, the instructions for activating WordPress Multi Site are available in this JournalXtra post.
Whether you activate Multi Site or not, I'm sure you will find WordPress 3.0 a great addition to the WordPress platform. I do not yet know how upgrades from WordPress 2.9 can be performed or whether they will be performed automatically or manually but I am certain that I will upgrade all my blogs to version 3 as soon as I know it's safe to do so.