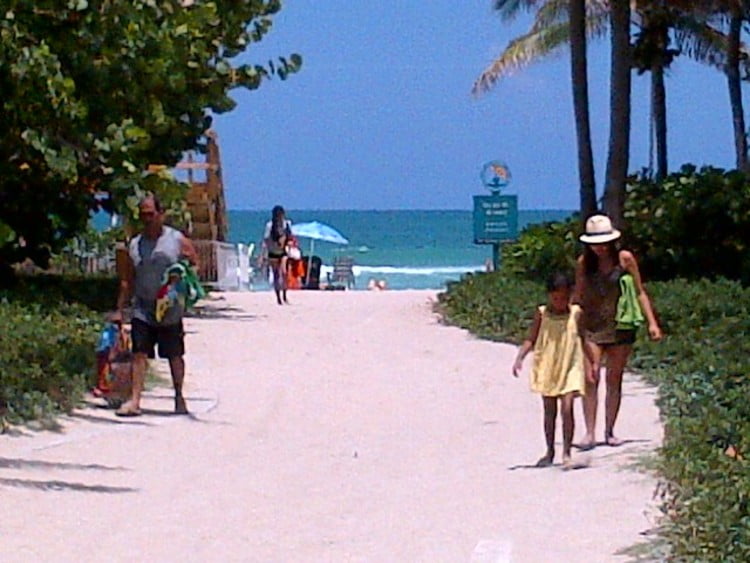 Miss me? Good. That was the idea. Want to know where I've been? Have a guess. Go on, guess. I've been away nearly 4 months. You must have a few wild ideas about where I've been. Don't be shy. Guess.
No, I wasn't in prison. No, I wasn't abducted by a band of vampirettes (though that would be appreciated, if any are reading). I haven't gotten married (I'm still single, girls!)…
Looks like I need to tell you. I had 3 awesome months in Miami with fantastic friends met over the Internet and new friends met at tweetups, meetups, birthday parties, bars and social events like Social Media Day Miami (next one coming up soon).
I left the UK June 17th and returned September 14th. Missed my connecting train from Gatwick airport. Missed my pre-booked backup coach. Was I bothered? Absolutely not. I had had a fantastic time in Miami and nothing could upset my mood that day. Even the idea of being back in cold, rainy England didn't touch my feelgood mood.
The adventure took me to the Wynwood Artwalk which is a regular monthly festival of art and drink. A day where artists open their galleries to the public, show off their masterpieces and serve lots of free wine to 'artwalkers'. The smell from the food vans is irresistible. The street music, live graffiti and brightly lit walls make the Artwalk a must-do event for everyone who visits Miami. It's an unforgettable experience. Great for meeting new friends. Fantastic for photo ops with artists.
I enjoyed a sea tweetup on the Norwegian Sky with 44 other tweeters. Free food. Couldn't empty my wine glass for the waiters refilling it. Every time I looked away it was like "What? More wine? Where's that from?!" We toured the gym, pool, luxury cabins, entertainment rooms and most of the ship.
Other things I enjoyed include a hairdressers designed after a maintenance garage where they use pressure pumps to blow hair off the neck (you have to see the photos, it's unbelievable), the first year anniversary of The Chi Spot where loads of food and drink was given out, dancing at The Donkey Show at the Adrienne Arsht Center, The Mercedes Benz Swimwear Fashion Week where I met Delores Cortes and saw models being made up before their strolls down the catwalk and so much more you can see in my photos.
Met many fantastic and very warm hearted people like Blanca Mejia from VizRED, Gisele Blum and her daughter Nicole who looked after me during a tropical storm that we thought would turn into a hurricane, James Echols & Annete Peikert from Soul of Miami who took me to my first Artwalk, Vicky Anne Chung who took me to Versaille's restaurant a few days before I left Miami, John Peter Mahoney from Social Media 305 and Dress For Success, Teresa Mears from Miami on the Cheap (Thank you Teresa for letting me stay at your house while you were away), Kristin who took me out for a drink, Steve Roitstein who entertained us with his Afro-Cuban Funk band called Palo! at PAX, the co-owner of Devita's Restaurant and her sister who made great mojitos, Natascha Otero from NOS-Communications, Emily Gonzales and Gabby from Made You Famous, Rochel Albert from Quantum Beads who invited me to dinner with her husband and children, Carlos Miller of photographyisnotacrime.com, Alex de Carvalho of alexdc.org and so many other friends who made me feel very comfortable and very welcome in Miami.
Miami is a beautiful place filled with friendly people, lots of trees – it's like a jungle with houses in the middle of it – and an ever improving public transport system.
Such a great holiday I doubt I'll ever have a better one but I'm damn well going to try before I die.
A few photos from my Miami experience are shown below. View my albums on Facebook to see even more photos.