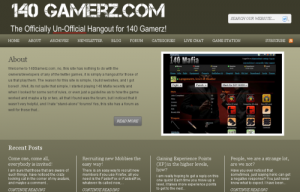 If you're a regular 140 Mafia player then you will almost definitely have visited the LOLplaying forum. What do you think of it? Whenever I've contributed anything to it I've felt like a child, whispering secrets to my friends, in front of my parents, thinking they can't hear me. You know the feeling, it's the one that says 'I'm doing something naughty and I don't want adults to know about it.' Spilling the beans about what we're upto in the game in the forum is like treating the school headmaster as one of the lads. We don't do it in the real world so why do it online. We can't trust that what we say in the official 140 Mafia forum is not going to be overheard by those we don't want to listen in. In fact, we know it will be read by the wrong people and probably deleted before we can bookmark the thread.
Thankfully, OpinionHead, a 140 Mafia player frustrated with the official LOLPlay forum, has created the Un-Official 140 Gamerz Forum; and  a couple of days ago I was asked to take a look.
The Un-Official forum is dedicated to all things 140 Mafia. It has a blog where OpinionHead publishes his main tips & thoughts and a forum where they can be discussed and where other players can raise their game concerns and share their game play tips. It looks promising, OpinionHead is determined to make the site a success and I recommend it over the official forum. I think it will compliment the Ultimate Guide that I've written and published here.
Thank you OpinionHead for creating a forum that fills the gaping big holes made in the official forum by over LOL's over censorship of anything not LOLplay related.